Create a Beautiful and Functional Home Office
We could all use attractive and functional office space in our home and giving some thought to its design will result in a space where you truly enjoy taking care of business. In your home office, you may just want to pay some bills, organize your calendar, or run your corporate business from afar but you will want to make it the best it can be so you enjoy spending productive hours there in an ideal environment. Home offices should never be an afterthought but instead should reflect the beauty of the rest of your home. You can have a gorgeous custom desk, comfortable chairs, great lighting, artwork, armoires, bookshelves, and a well-designed built-in closet, too.

How about a pair of wingback chairs for reading reports comfortably? A great office will enhance your creativity as well as your productivity.

Here are some strategies for creating the best office for your lifestyle. First, you want to think about the location of your office in your house as you will probably spend many hours there.

Be sure to have adequate space for all you will need to be happy in your office sanctuary. Your office can be placed in a quiet space in your home, or if you will have clients coming by to meet with you, it can be placed in a more private space. Do you want to walk past it daily en route to your living room, kitchen or bedroom or would you prefer to keep it separate so it doesn't tempt you to work unnecessarily when you stroll by? Your office can even be placed in a separate building on your property to give you a special space for work.
Next, you want to plan out your desk, shelves, and storage to be both attractive and functional. What items do you need at hand or within your office? Your home office furniture is important and should complement the rest of the furniture in your home. Why not have a custom-built desk created for your specific needs? Many people enjoy having a writing desk with drawers instead of the huge, oversized desks of the past. Have some shelves, cabinets, tables, and closets built that enable you to create the optimal storage space that will work best for you? How about adding a wall or two of bookcases with your favorite books and your favorite art pieces. You could add some paneling and create a hidden wall of shelving and storage.

Your ergonomic desk chair and the other seating in your office should be comfortable, elegant, and attractive. You may want to add a couch or loveseat, or a coffee table in a seating area within your office. You'll probably want some comfortable chairs around your desk for meetings. Don't sit with your back to the door. It's ideal to have a view and natural light and ideally you can have custom French doors and windows to give you something interesting to look at rather than a wall when you look up from your computer. If you can't add a window or door, consider a beautiful picture and give some thought as to where you will place the desk to get the best view.

Why not add some of your favorite art on the walls and add a favorite sculpture or art glass on shelves or your tables? You can also create an area within your office if you will be serving beverages or snacks and add a refrigerator and storage area.

How about adding a fireplace for beauty and warmth with a gorgeous custom mantle? A fireplace will be a wonderful and appreciated addition to your office, especially during the winter. There are many plants that will thrive inside your office. How about also adding some long-lasting orchids for a touch of color and elegance?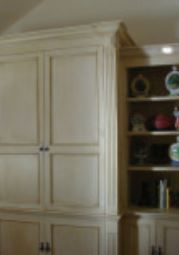 Next, consider the walls in your office and paint them a color you love or add wallpaper. Consider what is most appropriate to the style of your office and determine which colors will make you more productive and enhance your mood. You may want to add attractive beams to the ceiling of your office. Consider your office flooring, too. Do you want attractive hard wood floors with a beautiful rug or perhaps add high quality carperting in your office.

There's an array of accessories available that are functional and attractive. Think through your typical work needs before you buy too many items that will clutter your space. Then, find an upscale stationery store or look online for the perfect leather desk pad, stacking trays, coasters, pens, letter openers, pen holders, file holders, business card and letter holders and more.

You may choose to organize your papers both horizontally and vertically to keep things neat and organized. To get papers off your desk, use vertical folders so they're nearby. If you tend to create piles, get an elegant basket to hold your mail, notes, and important papers. If you prefer a clean desk top, choose a drawer to hold your "to do" work and papers.

Finally, lighting is very important for productivity and the enjoyment of your office. You can use light from the window but position the computer monitorto reduce glare. Add an elegant overhead light and sconces to be sure there's adequate light during dark stormy days. Place a beautiful lamp on your desk for easier reading.

Consider all of these important aspects as you plan an office you'll look forward to working from in your home. It's worthwhile to invest in creating a fabulous office that you'll enjoy year after year and will become your own personal think tank for great ideas and decisions.