Design Trends of Luxury Homes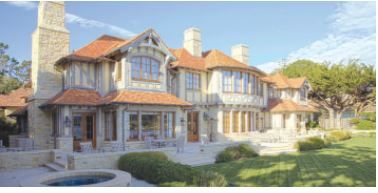 What are some of the top design trends favored by luxury estate owners? Below are a dozen trends found in many Pebble Beach and Carmel homes you may consider to enhance your own property.

1. Beautiful exterior and interior doors are an important part of your home and there can be 80-100 doors within a multi-storied estate. The front door makes a definitive statement that sets the expectation as to what is presented inside your house. Your exterior and interior doors should be visually complementary to each other.

2. Utilize exposed hardwood beams to create ambiance and majestic ceilings. High ceilings with beautiful wood beams add another dimension to your rooms.

3. Incorporate stone elements including fireplaces, fountains, walls and flooring.

4. Plaster some of the interior walls and have them painted with artistic frescos or murals.

5. Flooring is a key design element in a luxury estate. Incorporate hardwood and limestone flooring throughout your home covered by beautiful area rugs and runners. Peg and groove or distressed hardwood floors add a subtle elegance.

6. Use solid wood throughout, including durable walnut, fir, white oak and recycled redwood. Insects, aging, and other minor flaws often add interesting textures to the wood. Custom kitchen islands, kitchen and bathroom cabinets, bookshelves, tables and staircase banners add a touch of elegance.

7. Turning the backyard into an outdoor living retreat is one of the hottest trends among luxury estates. Utilize limestone pavers in driveway and patio areas, attractive stone elements, balustrades and more. Consider adding an outdoor kitchen, too.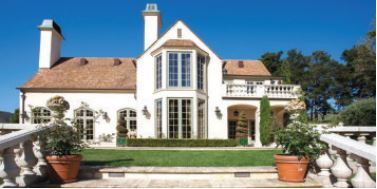 8. Many low energy appliances can be incorporated into the room's design — including attractive wood surrounds on the refrigerator and freezer.

9. Enjoy smart home electronics hooked up to a computer system, for easy entry, air flow, heating, security, lighting, entertainment and more.

10. Build a comfortable Home Theatre with surround sound. There really is no limit when it comes to designing a home theater system, except for how much you're willing to invest in personal entertainment.

11. If you appreciate wine, add a wine cellar with beautiful handcar ved doors and elegantly preser ve and age your favorite wines.

12. Landscape attractively with native plants appropriate for our region, including drought resistant species.

​​​​​​​ You don't have to do everything at once. so perhaps consider renovating a room at a time. By incorporating some of these trends in your estate, you'll be creating a beautiful home that's built to last and appreciated by family and friends for years to come!

Article courtesy of Susana DeFatima Silva, MA, REALTOR®, Test of Tyme, LLC and Wendy Brickman, MA/MBA, Brickman Marketing.