Gorgeous and Gracious Guest Bedrooms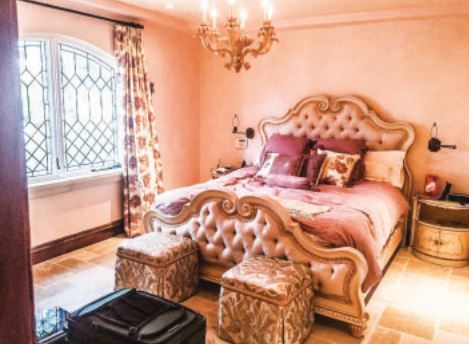 Entertaining friends and family in your home is a wonderful part of creating special times together and deepening relationships.You may enjoy having summer visitors, weekend guests or holiday company and being a thoughtful host goes a long way in creating great memories of their visits. Providing an attractive and comfortable guest bedroom offers guests a special relaxing space where they feel welcome staying overnight or for a few days or longer. Adding thoughtful touches and items they may want to use throughout their visit makes for happy guests and happy hosts, too! Think about what you would appreciate when visiting a friend or relative and plan accordingly so they can enjoy a mini-retreat at your home.

Your guest bedrooms should reflect the high quality of furniture, accents and decor found throughout the rest of your home. You can be creative and colorful when designing your guest bedrooms but, ultimately, they should harmonize with the other bedrooms in your house. From beamed ceilings that you use in other rooms to colors and carpets, guest bedrooms can be distinctive yet still feel part of the overall décor throughout your home. Each element you add to your guest bedrooms should be carefully planned so it works with an overall theme, however not every item should make a statement. Pieces you include should work together, not compete. Create a plush environment for relaxation and to enhance the quality of your guest visits. Your goal is to be sure they stay relaxed, well-rested and comfortable. Start with providing a high quality, comfortable bed. Typically, a king or queen size bed for spaciousness will allow your guests to get a good night's sleep. You may choose to have a 4-poster bed with a custom hand-carved wood headboard and footboard, enhanced by a high thread count set of bed linens, ample pillows and attractive high-quality comforter and blanket. Then add a fabric canopy to add a touch of elegance.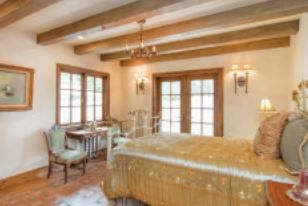 Extend the style of your bed to other furniture within the room such as a convenient solid oak armoire, dresser and bedside tables.

Next, choose wonderful window and wall treatments. Unique attractive framed windows or French doors will create a beautiful statement in the room. Add some attractive curtains and include an extra layer with the option of blocking out light so your guests can sleep in a little later in the morning.

Lighting is important element in your guest bedrooms so adding an overhead chandelier or a unique lighting fixture, plus individual adjustable reading lights or lamps on each bedside table is important.

A beautiful patterned rug, large or small, on a peg and groove wood floor will add more beauty to the room. Choose a comfortable chaise lounge, oversized reading chairs or sofa to increase the comfort for your guests. You will want them to be able to have their own quiet time during their visit while you enjoy your own relaxing time as well.

An attractive small desk and comfortable desk chair will enable them to use a computer should they choose to check email or do a little work. A lovely large or small fireplace is always a great addition to add coziness to a guest bedroom and a hand-carved mantle can complement the other furniture in the room. Include a small elegant mirror in the guest room to provide a spot for them to touch up makeup or put on jewelry. A long dressing mirror is also thoughtful addition. If your guests are longtime friends or family, place a beautiful framed photo or two from a prior visit on the dresser or nightstand.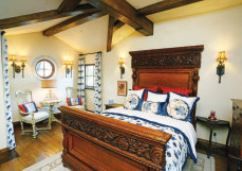 Add a large flatscreen tv accompanied by an array of books, magazines, CDs and DVDs for added entertainment during guest visits. A small quiet alarm clock or timer is helpful for naps and waking up in time for a meal or an outing with you.

Let them relax after a long day of activities during their visit with you and pamper them. Add a basket or container with fluffy guest towels, a plush robe and extra blankets, too.

Other thoughtful items in guest bedrooms can include a luggage rack or two for the closet plus toiletries in the bathroom like you'd find in a luxury hotel. Add fresh fruit, nuts and a chocolate basket with lots of water bottles. A small refrigerator is always convenient and a small coffee/tea maker with attractive mugs will be appreciated. Fresh flowers can be the final touch to make your guests feel truly welcome in your home! Tulips are easy to arrange and always look lovely. Remember to enjoy every moment of your time with your special guests so they will enjoy returning again to visit you in the future and you will welcome their future visits too.